The Sum of Both Worlds ~ Papi, Part 1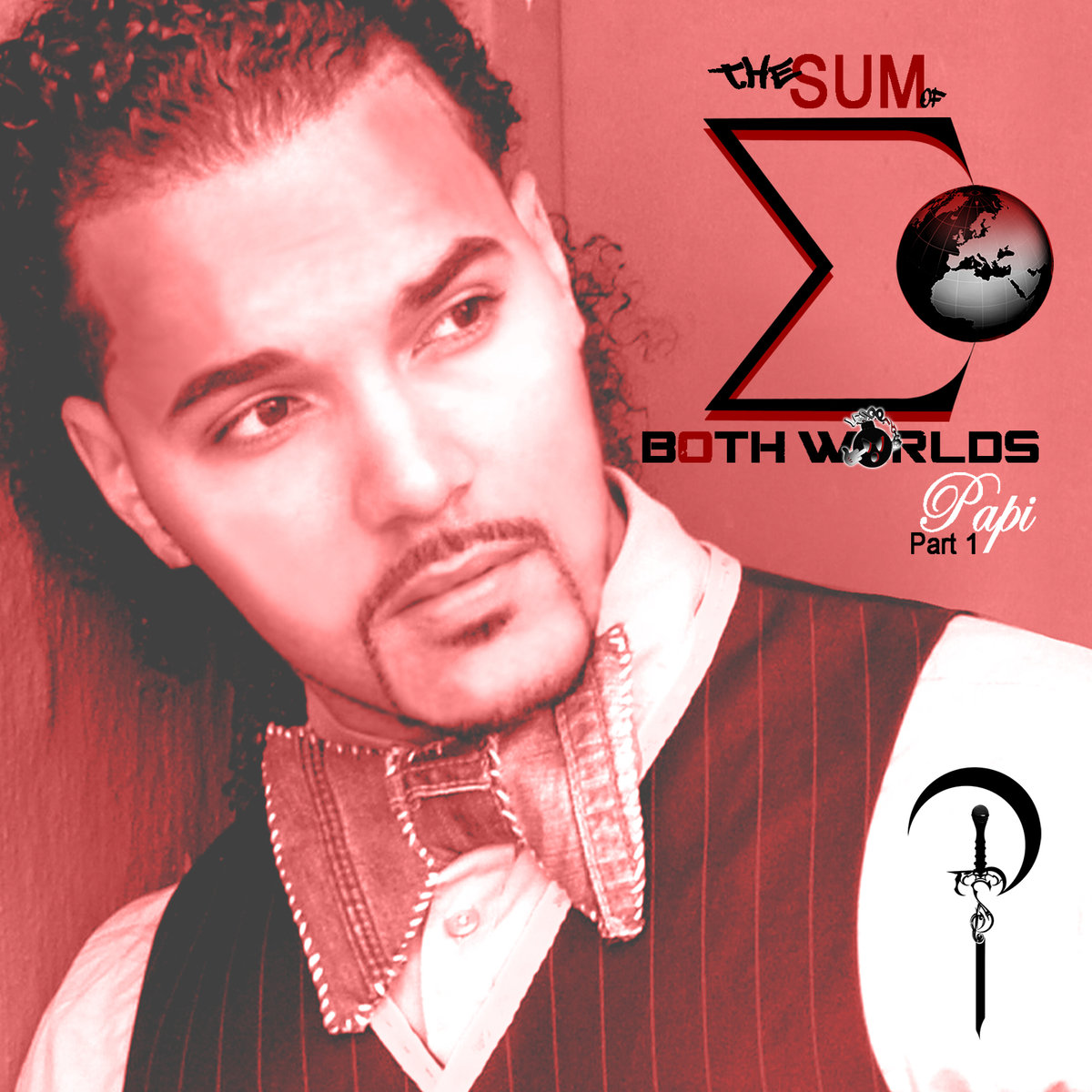 If there's one thing New York artist Papi Shank is king of (besides pretty much everything) . . . it is brilliant, strategic marketing.  Not only did the sensational singer / rapper / songwriter / producer release his debut album The Sum Of Both Worlds, Papi Pt. 1 during the most energetically powerful week of the entire year (11/1/11) . . . he breathes fresh & finely scented new air into the mainstream music scene.  His endless stream of professional projects leave the average person wondering 'When does this guy sleep?' 
There are no breaks or naps for the CEO of L.E.S.G.O. Entertainment – a record label brimming with talented artists in the genres of hip hop, R&B, Latin, reggaeton and pop.  After numerous successful mixtape and collaboration releases, Papi Shank is a mogul on the rise, with no plans of slowing down.
The Sum Of Both Worlds, Papi, Pt. 1 delivers fire from start to finish.  With sexy, soulful jams and sizzling club joints, there's flavor for every palate.  Papi Shank (who lives up to the rumors of being the hardest working man in the industry) is a treat for the eyes (check out his modeling portfolio and personal training repertoire) . . . but above all, his artistry is a real feast for the ears.  Imagine the classic passion of Ricky Martin layered with the contemporary soul of Usher, and iced with the lyrical dopeness of Big Pun.  Then visualize that blend of unparalleled skill coming from an artist with the physique of a Latin god. 
Drooling, yet?  
Papi Shank is the suave, sexy star that ladies want and that guys want to hang out with, in the hopes of being part of his L.E.S.G.O. entourage.
Here's a breakdown of Papi ~ the anticipated first half of a two-part release, epically titled: The Sum Of Both Worlds

__________
Track 01 Vibe ~ The album opens with a hot, east coast hip hop track, suited for cruising, chilling, and head bobbing.  Papi Shank's aggressive rap skills manage to quench the thirst of hardcore lyric-heads, all the while going down easy like a well mixed Long Island iced tea.  You will definitely feel it in your system.  (Pun intended.)
Track 02 This Is My Song ~ Once again, Papi Shank defines the 'IT' factor by displaying his singing and rapping skills on a flavor filled track that takes your ears on a vacation from Puerto Rico to Ibiza in just under four minutes.
Track 03 Anchor ~ Infectious pop perfection.  Just TRY getting the hook out of your head.  Finally a great track where a man successfully croons his point across, with integrity.
Track 04 Nothing On ~ Press play on this one with caution.  When Papi Shank chose 'Nothing On' as his first single, he must have known his female fan base would explode.  (Warning: If you're sensitive and uncomfortable feeling tingly in various regions of your body, you might want to skip this one.  Otherwise, enjoy and have fun.)  Please note, Papi Shank and his company are not responsible for any effects this track may cause.
Track 05 I Want It ~ A personal fav, this stand-out hit penetrates the brainwaves and grows vocally and musically hotter every 30 seconds.  A surprising highlight that had me pressing repeat quite a few times.
Track 06 Hable Me ~ Even if you don't speak Spanish, you will be attempting to after listening to this song.  'Hable Me' is a supremely tasty uptempo track with a quasi-cosmic sound laced over pop rhythms.  The track features Cheryl Miss Sex Appeal and is, fittingly, the sexiest collabo on the entire album.
Track 07 All I've Got For You ~ Papi Shank's ability to sing his way into your heart is most potent on this emotionally stirring track.  'All I've Got For You' plays out like an Antonio Banderas-esque movie soundtrack, with an ending that leaves you yearning to know what else happens! 
Track 08 Down On All 4's (BASS) ~ Consider this joint an ode to Flo Rida's chart topping style, but with a much sexier twist.  Papi Shank lures the listener into suggestive positions to satisfy his moody pleasures and animal desires.  If you like musical candy, put this song on your tongue and let it melt.
Track 09 Rescue Me ~ A blaaaaazing, sophisticated stand out on the album, Papi Shank shows off his inner rock star, pop star, and hip hop star qualities on 'Rescue Me.'  The multi-talented Papi Shank shines brightly on this contagious joint that you will definitely be passing around from iPod's to cell phones everywhere!
Track 10 Missing You (Interlude) ~ The smooth, timeless vocals of groups like Boyz II Men are brought to life by Papi Shank in a fresh way on this flawlessly executed interlude.
Track 11 Better Man ~ Talk about saving the best for last!  Papi Shank's urban flare is strongest on this R&B jam.  He allows his raw singing talent and songwriting skills to dominate the song, closing the album on a heartfelt note.  Through faith, hard work and perseverance, Papi Shank challenges himself to be a 'Better Man' every day . . . and succeeds 100%!
__________
Papi Shank proves he's a music industry genius . . . crossing genres, breaking boundaries, and creating albums that make it obvious why he's one of the most respected men in New York.  He's an inspiration to independent artists, ambitious entrepreneurs, and big dreamers all over the world.  His life and his artistry show that no matter where you come from or what you've been through, nothing can stop you if you're  Living.Every.Second.Goal.Oriented.
Don't get too comfortable.  Once you've digested Papi, stay tuned for The Sum Of Both Worlds: SHANK (part 2)!
I seriously can't wait.
L.E.S.G.O. !!!!!!!!!
Want more Papi Shank?!
Listen to his new album, download the tunes you love, connect with him personally, and enter the world of a living legend at:  http://www.papishank.com
~ Heidi D