11/04/18 Fort Lauderdale workshop was a success!
To book The Art of Attraction & Communication in your area, contact Heidi today!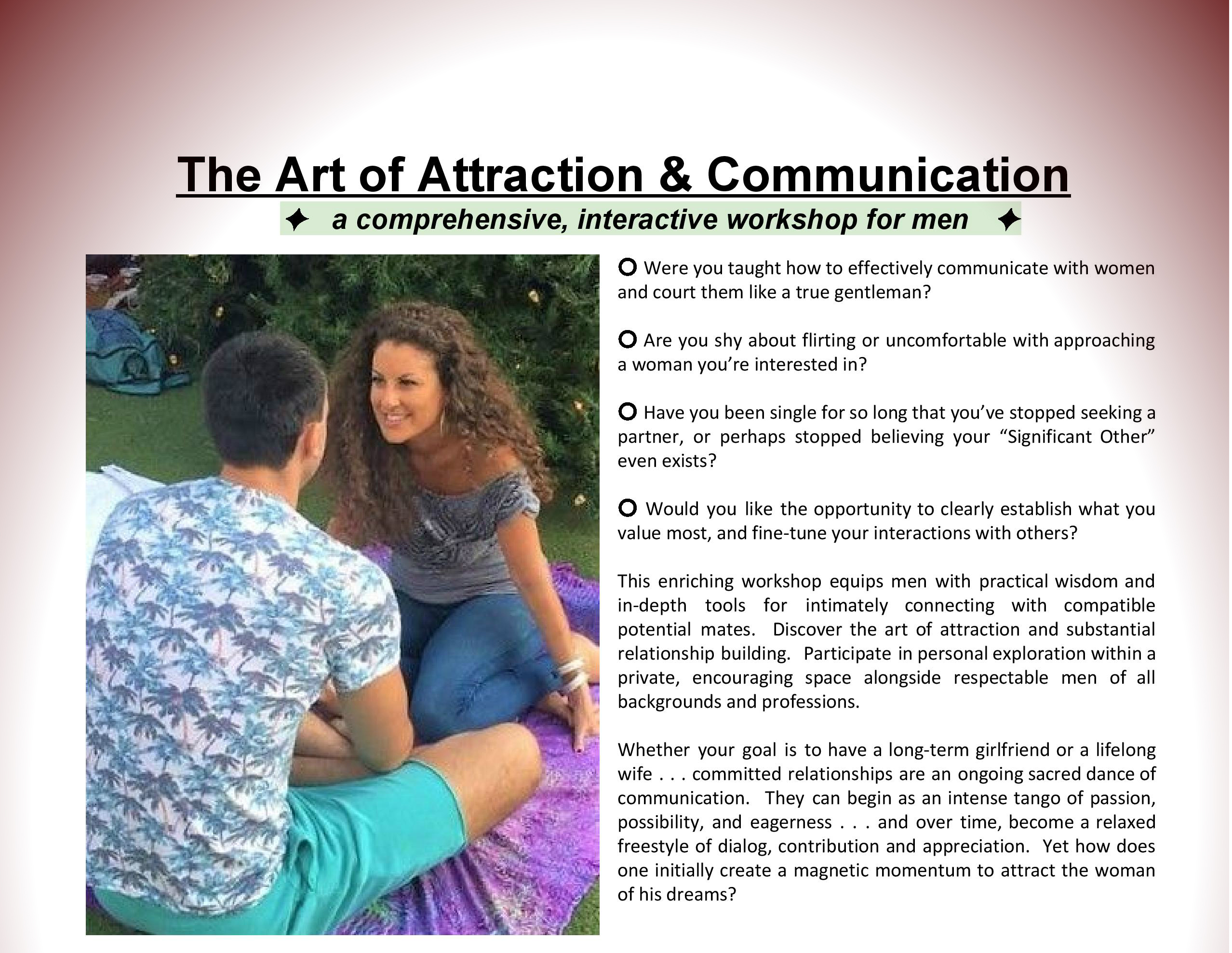 ---
---
🌟 SINGLE MEN who desire a companion . . .
🔵

 Were you taught how to effectively communicate with women and court them like a true gentleman?
🔵

 Are you shy about flirting or uncomfortable with approaching a woman you're interested in?
🔵

 Have you been single for so long that you've stopped seeking a partner, or perhaps stopped believing your "Significant Other" even exists?
🔵

 Would you like the opportunity to clearly establish what you value most, and fine-tune your interactions with others?
🌟 THERE ARE A FEW STAGES comprising the process of connecting with a potential mate:
🔵

( ( ( The Pickup Stage ) ) )
Approaching someone you're interested in  /  Maintaining dialog
🔵 ( ( ( The Dating Stage ) ) )
Going out to do enjoyable activities together  /  Spending quality time getting to know each other
🔵 ( ( ( The Relationship Stage ) ) )
Syncing with each other's biorhythms and engaging in a mutually satisfying companionship
Join us for an exclusive men's workshop that will explore how to successfully navigate those first two stages of meeting and dating.  The Art of Attraction & Communication equips men with practical wisdom and in-depth tools for intimately connecting with compatible potential mates. Participate in personal exploration within a private, encouraging space alongside respectable men of all backgrounds and professions.
Your success in the realm of intimate relationships will improve and your ability to communicate effectively with women (meeting them, dating / courting them, connecting & exploring with them) will no longer feel so complex, challenging, or awkward.
Whether your goal is to have a long-term girlfriend or a lifelong wife . . . committed relationships are an ongoing sacred dance of communication. They can begin as an intense tango of passion, possibility, and eagerness . . . and over time, become a relaxed freestyle of dialog, contribution and appreciation.
Yet how does one initially create a magnetic momentum to attract the woman of his dreams?  How can the modern man be reactivated and realigned with his Divine Magnetic Self in a way that tickles his inner go-getter and motivates the former vitality of his boyhood? — the eager, optimistic version of himself.  Does that sparkling aspect of one's livelihood dim down or drift away throughout adulthood?  And if so, since we know that energy never dies, but rather moves and changes form . . . Where does it go and how can we work with it?
We are currently a species so saturated with technology, that our human-to-human interactions have become increasingly awkward and preposterous – especially over the last decade.
Did you ever notice how 'olden day' black & white films feature leading men with far more eloquent & intellectually sophisticated lexicons, and overall suaveness? They didn't have anywhere near the multitude of advancements and information that we have at our fingertips, yet the men were as proficient in poetry as they were in politics . . . as well-versed in art / music / literature as they were in business and sports. It is quite interesting how every generation evolves and progresses in some ways, causing other aspects of society to deteriorate or take a temporary hit.
Fortunately, we will revive the sacred art of attraction and communication ~ and bring forth the dawn of a new (paradigm) man. The man who "gets the gal" and keeps her interest without employing psychological tricks, playing games, or using inauthentic tactics to lure and impress . . . The man who exudes adeptness, gumption, emotional maturity, class, and an air of confidence — who knows his own worth and energetically draws a compatible partner into his reality by way of everyday embodiment and application of the practices that will be covered in our two and a half (cosmically charged, highly comprehensive) hours together.
May your journey to true love and companionship be ever blessed!
This event is created and facilitated by Heidi D © 2018